Narel has been one of the most exciting underground Trance and Progressive producers of the last 5 years, becoming one of our personal favourites here on TF. A pleasure to have him for our latest interview, and what better way to deliver it than with our new upgraded sexy article UI. As usual we'll cover his upcoming releases, production approaches and gear, favourite records as well as getting to know this maestro personally. Enjoy!
Welcome Narel! How has 2023 been going for you, both personally and music wise?

Busy! Personally, work is hectic with a lot of interstate travel and family life is equally as hectic being a family of 5, there is always something going on. Musically 2023 has been good, with continued involvement with Forescape Digital, J00F and Pure Trance/Progressive. I've also nearly got the studio into a configuration that I'm happy with and that aids creativity over f'ing about.

Tell us a little more about yourself.

I live in Tasmania near Launceston, we moved here 2 and a half years ago from Melbourne, having lived there for around 10 years - but, I'm originally from Lincoln, England. I work as a principal environmental consultant specialising in landfill sites (honestly….), I'm also a casual university lecturer in the same thing. Outside of music I do all mountain MTB, technical wreck diving, brew beer and build/paint Warhammer 40K models (Space Marines - Blood Angels). I still find time for clubbing and festivals as well, usually back in Melbourne.

How did you get into Trance to begin with and what makes it special for you?

When I was 5 or 6 I was played Jean Michel Jarre's 'Oxygene', I was told 'this man makes all his music on machines'. I will never, ever forget when those first notes of 'Oxygene pt.1' hit my brain, something aligned inside my head that day, I had never experienced anything like those sounds before, but felt as if I had always known them. My constant asking for that album led to me being played others by Jarre and then Vangelis, Mike Oldfield, Brian Eno etc. This was the mid 80's, so pop music had a lot of synths in and I gravitated towards those pieces of music. In 1989 my family moved to the middle east and I had limited exposure to the infiltration of dance music into the charts while over there, but did find some. In 1994 I got The Grid 'Evolver' as a present (off the back of me hearing 'Swamp Thing') while back in England for Xmas. That is the first proper dance music I remember and I loved what I called at the time 'the squelchy sounds' - not knowing it was acid. After we moved back to England in 1995, in school I was given a tape of happy hardcore, DJ Slipmatt on one side and DJ Vibes on the other, and I LOVED it. This led to me meeting my oldest friend Matt, who loved this music too and would teach me to DJ a few years later.

After a year or so of consuming that, it had become even more cheesy and luckily I found sets by DJ's Billy Bunter, M-Zone and Mark EG who were playing trance speeded up to 150 - 160 bpm and trancekore, which I connected with instantly as a more serious an emotive sound and which also had plenty of acid too. Now, be aware I had no idea what trance was at this point, I only knew trancekore. Around this time (96/97) I met another long term friend and frequent collaborator Jon (Deepcry / Tripleone) who gave me a tape of tunes and said 'this is trance you'll love it'. That tape had some belters on it; the Three n' One mix of 'Cafe Del Mar', Moonman 'Galaxia', Future Breeze 'Why Don't You Dance With Me' and Three n' One 'Reflect' to name a few. That's what set me off with Trance, it felt like discovering Jarre again; an amazing feeling that others think like you do and can turn it into sound.

Unknown to me Jon had been making music on Music 2000 for a while and completely independently I had started messing around with samples in Magix Music Maker. We connected these threads soon and began working on FL 3. That evolved into me messing around with later versions of FL, then Cubase and Logic. I really liked Logic but hate Macs, so when Apple bought it and it went Mac exclusive I went back to Cubase but didn't really like it either. I sort of gave up music production for a few years while at Uni. But… at uni I met Marcos (of Vandit records fame…) as well as a bunch of guys and girls who were into Sasha & Digweed prog. With these folks and Jon I used to frequent Gatecrasher, Godskitchen and Passion. That led to me picking up production again and I set about teaching myself how to use software synthesizers, which I really enjoyed but had mixed results!

The first proper soft synth I bought was Sylenth1. Soon after I was offered an Access Virus B for a great price by old skool trance producer Frase and I got an unexpected win on eBay on a Nord Rack. With those synths, FL8 and a shitty audio interface I ended up getting my first remix released which was for Suntory & Facade 'Kangai Muryo'. Facade and I met as we both worked at the Environment Agency and I was selling a copy of Halion 3 on an internal marketplace. He got in touch, realising only a producer would be selling that. I think the chat was something like 'what do you producer?' 'Trance', and that was that. Some time soon after this Jon signed a track to Bonzai Records and asked me to remix it and everything else fell out from that really.
How have you found being a producer in the modern Trance and
Progressive
scene?
I'm lucky that I've connected with people and labels that allow me to make what I like, as if I had met those who try to force a certain sound I guarantee I'd have soon stopped trying to release music. I'm pretty dismayed at 'modern' practices of purchasing midi files or templates and then using the same synths, the same presets and the same samples everyone uses, I don't get it, I don't see how anyone can consider that their creation. Modern trance suffers from this particularly IMO, with everything sounding the same. I think there are too many labels and too many releases as well, but it's a units game now. The income per release is so low the only way to make any $ is to pump out loads and loads, which I think also led to the template/midi file/sample packs thing - people want to make something fast to be prolific and producers realised they can make more cash from selling tools/materials to enable others to make music than they make from their own releases. The good news is I reckon that the saturation and uniformity of modern trance has driven a resurgence in creativity in proper underground trance, much like the rise of vocal/commercial trance did in the early/mid 2000's. I really don't know where I fit.

I don't consider myself a trance, techno or progressive producer, none of my stuff fits neatly into any one of those genres and I don't try to; I take elements of those plus others and don't really think about style/genre. I'm honestly simply eternally grateful that some people enjoy the results of me messing around on synths and that some record labels consider it worthy of release. I'll keep going as long as that does. The reason why I produce music is I need to, I couldn't not do it, a creative idea burns into my brain to the point where I have to drop what I'm doing and record it. I'm also an absolute obsessive about underground dance music and rave culture and hope that I have contributed something meaningful to it.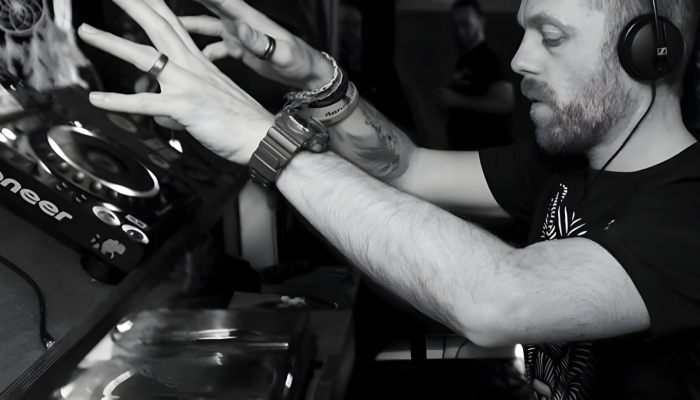 What are you up to musically at the moment?

I was a bit nervous about this year coming off the back of getting the Matahari remix on ISOS in 2022. Luckily 2023 has yielded multiple signings to Pure Trance/Pure Progressive and J00F Recordings. Even though we are in the later stafes of the year most of these haven't been released yet due to backlogs but also John 00 Fleming holding off J00F releases while he and Beatport launched the new deep/raw/hypnotic trance genres (full support from me on this). My 2023 releases so far have been my remix of Coredata 'Shagohod' on J00F, 'Tensile' on Forescape Digital, 'What Your Cause Will Be' on the Pure Progressive 3 mix album and a remix with Deepcry of Facade 'The One True Morty' on Prognosis.

The forthcoming and latest releases are the single release of 'What Your Cause Will Be' on Pure Progressive and 'Six Moves Sideways / Ex Acid Machina' on J00F - the first track is very late 90's Platipus records and the second is heads down acid. Jon and I just signed a new Narel & Deepcry track to Pure Trance which was debuted recently by Solarstone on Pure Trance Radio 374, it's the ID - ID in that episode. I think I can say that now as we've signed it, if not… sorry Rich ; )

Other than that I've been working on a bunch of new ambient tracks, some drum n' bass and I've been trying to make a piece of 'proper' trance too, I've got a brilliant lead riff and sound using a my NL3 but have yet to get the rest of the track sounding good enough. That one will be aimed squarely at Pure Trance once it's done. I also started providing a mastering service to one record label this year, which is something I spent a couple of years learning through literature, a couple of paid online courses and a lot of practice/feedback. The genesis of that was me getting pissed off with a) my own lack of polish and b) getting shitty masters from some labels in the past which were clearly just rammed through a brick wall limiter with the gain pushed to the top and sounded like they were being played loud from inside a box, in a car, inside of a bigger box.

It's been a couple of years since your debut album Diary of a Synthy Kid, one of our favorite albums of recent times. What can you tell us about the making of that?

I'm glad you like it so much : ) I'm proud of quite a few tracks on that album, some I'd change for sure but that's how I feel about most of my stuff. I didn't set out to make an album, it began life as some dubby ambient and sort of dub techno ideas made mostly on the Virus B. But majority of the tracks were born due to getting new gear or software and trying it out. 'Alonefield' and 'Silence Coloured In' were live improvised with some finesse overdubbed onto those recordings later. As it became a possibility that album #2 was being made, with about 6 tracks done I set out to make some prog' trance as everything else on the album was ambient or dubby; that yielded 'Everstone' and 'There's The Walrus'. The only other track by design was the closing one 'Vapour Moods' which was always going to have some acid on it. I already had the chords and weird bass made on the Nord Lead 3 so I put Phoscyon to work on that one. I needed one more track to finish it and then remembered I had made 'Mesmeresis' to use on a demo DJ mix when I applied to play at the Rainbow Serpent Festival (which to my surprise I got to play at!). That finished it off nicely.

The issue was who would be interested in releasing it…… Bonzai (who released my first album) had stopped asking me for remixes and originals a year or so before I finished this album so I didn't think that was an option. None of the other labels I worked with would be interested in an album like that or an album from me at all…. except maybe one. So before I self released it, I asked Kirill at Forescape Digital who gave it one listen then signed it. That gave me some confidence in it as Kirill is a no bullshit guy, if he didn't like it, he wouldn't release it.

What's it like working for JOOF recordings? How does the process go for submitting demos? Is there much creative process or oversight involved?

I'm really proud of releasing music on J00F Recordings, I set myself that as a challenge and eventually scored with my remix of Facade 'Orewa'. The demo of that received the only piece of creative oversight I've ever had from the label which was to remove a vocal sample I'd used which did not appear in the original mix.

The process of submitting demos is a bit circumnavigated for me due to knowing and working with Facade who is on the label A&R. As I understand it the A&R team share demos and discuss them, with the best going to John for approval. So Adam (Facade) submits my demos to the A&R team for consideration. I get a bit of imposter syndrome being on J00F and Pure Trance/Pure Progressive. I don't have a lot of confidence in my productions, which may sound silly in the context of me talking about being on J00F and Pure Trance but that's how I feel. It's good on the one hand as it drives constant improvement through self evaluation, but it can cause some anxiety too.
Voted no.2 in TF 2021 best tracks of the year
How much do you typically expect to make on releases with underground labels, such as JOOF or others, and what can you say about being a producer and the financial aspect to it?

A small amount. I've been at this a while and know the score, I didn't get into releasing to make money, which is just as well LOOOL! If someone wants to be a producer to make money they are starting from the wrong perspective, unless maybe they set out to be a ghost producer but I can't see how that would work, what would your resume be?!!

Any money I make from music I put back into music through purchases for the studio. J00F, Bonzai, Forescape, Pure Trance/Progressive and Landscapes Music I can vouch for as having paid me royalties or they provide statements when the pay out value hasn't been earned yet. Other labels I've never received a statement or any royalties from, that's not to say I wouldn't get these things if I asked but it shouldn't be that way. Then there are others that have ripped me off, you sign the paperwork, provide the music and they go to ground after the release. You live, you learn. Some labels clearly prey on new producers knowing they are eager for that first release, the people who run these labels are absolute twats.

Some things that people may not be aware of which are very common are labels who take costs from your royalties for mastering and other services such as promotion - but mostly for mastering. I really disagree with this as these matters should be a label overhead. Why do I tolerate it?? Simple, these labels have the profile, promo pools and distribution networks to get my music the best exposure and that's what it is about for me. I've had my music played by my heroes, seen it played in clubs and at festivals and got it on to top mix albums. That's because of those networks.

You have quite a broad range of styles and ideas in your tracks. What's your process before beginning a production and setting out where you want to go?

I don't set out with any plan (except last week actually….. more on that at the end of this bit). A track nearly always starts with either a lead melody, a hook or a bass rhythm or sound idea. Then I start trying to make that idea. If not an idea from scratch it will be inspiration from hearing a tune, typically a certain sound or groove. Probably 75% of the time I don't successfully execute that idea but end up with something else. I save everything I make be it midi sequences or a sound which I like but I haven't managed to make a riff with. A lot of that material does eventually become something. For example, the acid bass from 'Baseline' resulted from recording a session where I was just messing around with my newly purchased Roland TB-03.

Once I know I've got something likely to become a new track i.e. I've got the lead or chords done or maybe a really groovy bass I'll start the mixdown early and build it from there. That nearly always starts with the kick or most prominent elements (if not a trance/prog'/techno) track set to around -6 to -9 db and then I build around that. As the elements build up I set up my bus tracks for effects, automation, bass elements and percussion, sidechain etc. One thing I've focussed on in the last few years is brutally binning sounds that are just 'ok'. Unless I really like it, I start again with that element; or equally brutally redoing the mixdown in the middle of composing the track if I feel it's not breathing or isn't punchy enough.

The only tune I've set out to intentionally make stylistically was just last week when I made a Stefan Bodzin style track, I love that highly modulated Moog sound. No idea if this will ever see a release. That was just a challenge I set for myself after getting Arturia Mini V on special offer, as my wife would divorce me I bought a Moog Subsequent 37….
Finally and probably most importantly, Facade, Deepcry and I have a no holds barred Whatsapp group chat where we share WIPs, techniques and final mix downs of demos and completed remixes. Having trusted, experienced and totally honest feedback is so important to get things sounding as best they can be. 9/10 times they hear things I didn't and vice versa.

What does your production set- up consist of?

Anyone who's read my posts will know I'm a gear head - my entire left forearm is taken up by an ADSR tattoo FFS! I frequently use mostly older hardware synths run through modern software effects and processing. Nearly every one of my tracks is made using an Access Virus B, Nord Rack, Nord Lead 3, Roland JP-8000, Access Virus Ti Snow and a Waldorf Blofeld. In the last year I've added a Korg Wavestate for pads which is a great piece of gear and plays nicely over midi. Acid comes from a Roland TB-03 and a Behringer TD-3, both clocked via a Behringer RD-9 which I also use for a lot of drum sounds. I also drive a Korg Volca beats with the RD-9 and use it for glitched and time stretched percussive effects. Softsynths that appear regularly are Air Hybrid III, Sylenth1, NI Massive and D16 Phoscyon. I've recently added NI FM8 and Arturia Mini V.
For effects my 'go to' ones are; Valhalla Shimmer and Supermassive reverbs, Eventide Blackhole reverb and Ohmforce delay and filters which I've used since the early 2000's (now freeware), Kjaerhus Classic Delay (free), A1 Trigger gate (free) and Infected Mushroom Gatekeeper.

For processing; Fabfilter Q3 (eq), FL native parametric EQ 2, Fabfilter C2 (compressor) for bringing out delays and taming sounds with huge dynamic ranges when modulated (like the Mini V - open its filter and stand back….), Sonnox Oxford Limiter for enhanced dynamics, SSL Bus Compressor for, well… bus compression, Pulsar Smasher for really hard compression on percussion or effects. Saturation and/or dynamics excitement and/or soft clip through Soundtoys Little Radiator, Waves Aphex Aural Exciter, D16 Frontier as well as FL's native Blood Overdrive. Comb filter using Ohmforce Ohmygod! Glitch effects through Izotope/BT Stutter Edit 2 and I used to use the freeware dblueglitch. Mastering is done using some of the stuff above but then all goes through Izotope Ozone Elements 9.

I've got one outboard effect unit, a Hologram Microcosm granular delay/reverb and looper but I've yet to master it. I saw this used to great effect by the sickeningly talented State Azure, check out his youtube channel, incredible complex atmospheric ambient with plenty of nods to Vangelis and Tangerine Dream.

My audio interface is a Behringer U-Phoria UMC 1820 (thanks Nath Stealey) and I use various midi thru boxes to port midi to my hardware synths as well as using midi thru ports on those that have them.

It's likely obvious from the above but my DAW is FL studio. I've tried all of the big ones except Ableton and came back to FL for the workflow and free updates for life. It's really powerful and does everything I need…. except one thing, it can't receive external midi clock.

I'd really like to set up a hardware sequencer for on the fly recording of all the synths as I think that breeds ideas and happy accidents. I love messing around this way with the RD-9 running the TB-03 and TD-3. Unfortunately the fully featured hardware sequencers are bloody expensive. I use KRK Classic 8's for monitoring but for many years I used Alesis M1 520's. I changed these out for the KRK's as I needed more low end monitoring.

A TF personal favourite
Who is exciting you the most in the progressive scene and trance scene at the moment and why? What other non-trance music are you listening to?

I'm really liking Borderline releases. I kinda gave up on modern trance for the most part but when I was given the tracks by you for the TF 2022 EOY mix those borderline tracks were excellent. My favourite progressive producers of recent years are Bicep and Framewerk and in techno it's I Hate Models, Boston 168, Stefan Bodzin and Umek. The best trance producer is Coredata, I'm a sucker for that old skool Platipus Records sound and he nailed it and added something extra.

I tend to find a lot of individual tracks by producers I don't know through listening to sets by Anthony Pappa (my fav DJ of all time), Sasha, Digweed, Hernan Cattaneo and Nick Warren.

Most trance I listen to is old, classic stuff and not so well known tracks and compilations from that era. I really should explore some newer stuff. Non-trance, non-prog that I listen to in my collection and via spotify is old skool drum n bass and jungle, happy hardcore and trancekore, dub techno, acid techno, hard Berlin stuff, lots and lots of ambient, psy-dub and psybient. I've got a healthy 80's collection and I'm a huge fan of Pink Floyd, Def Leppard and Metallica.

I'm sure you've noticed in the forum that new progressive music can be heavily criticized, with comments on feeling lifeless or lacking groove and drive. Do you think that's a fair assessment and if so what's you take on why the scene finds itself in this position?

Yeah some of it lacks a hook or groove that draws you in. I think every track needs something memorable or it does not stand out in the amount of releases on offer these days or in a set. It hasn't got to be a melodic element, sometimes a bass sequence with well thought out percussion that compliments it is all you need sonically if it is supported by a clever arrangement to build tension and some great effects sounds. This is something I've been trying to focus on more - rhythm as well as musical elements. The impact of a great hook or bassline can be diluted if it isn't supported rhythmically by the other elements or if the arrangement sucks.

I really REALLY like the melodic prog stuff that Pappa, Cattaneo and Warren play. It's so well polished and does the hook, melody, bass and overall rhythm stuff so well.

You can take one label's discography to a deserted island, which is it and why?

Hooj Choons. My fav label of all time. Yeah it went a bit up its own arse towards the end but prior to that it was gold from the early 90's to the mid 2000's and gave us so many classics in trance, prog trance and prog house. Awesome logo too. I still have my original T-shirt.

If you could bring one producer back into peak time action, who would it be and why?

Vincent De Moor. This guy was so far ahead of the pack in terms of production and writing. Flowtation blew my teenage mind and still does and I don't think he released anything I didn't like. Veracocha - immense! Fly Away - awesome lead riff. VDM No Hesitation - f'ing mind blowing tech trance. Then he disappeared and remains off the grid music wise.

You can submit 10 tracks to a top 100 trance tracks, what are they!

Yikes…… difficult but something I have considered and discussed with a lot of people over the years. In no particular order, but with some comments!
Gouryella - Tenshi (probably my all time fav)
Chakra - Home (second fav lead riff ever)
Kamaya Painters - Far from Over
Kamaya Painters - Endless Wave (Albion remix)
Vincent De Moor - Flowtation
Three n' One - Sin City
Signum - Coming On Strong (Bo Bellow vs Euphoriah remix)
Qattara - The Truth (Qattara's Coufsat mix) (my fav lead riff ever)
Lolo - Pop The Cat's Adventure

Chicane - Offshore (Disco Citizens mix)
Thanks again @Narel for taking the time. Look forward to all your upcoming releases, and one day hope to see you on Trancefix Recordings too!

Narel Socials -
Soundcloud
,
Facebook
Last edited by a moderator: